Green header fill with red "BINGO" text color or plain black and white style?
So, How to choose a bingo card style?
It is tempting to customize your bingo card using our online software with flashy colors
and unique font types but sometimes these flashy colors can confuse the bingo "players" whether they are students or family members. So picking a style truly depends on the demographic of the bingo participants.
For example, it would be better when customizing a bingo card for family members on halloween to go with a graphical bingo card that uses images to represent an item such as a flying witch and an evil pumpkin for the kids to get excited about. But when you design a bingo card for educational purposes you might want the description text to appear in bold black and white manner so the targeted audience would recognize or memorize the word and spelling.
That is also true with your audience are the elderly – they would be thankful for a big bingo card with bold black and white text rather than a small colorful one that is hard on the eye.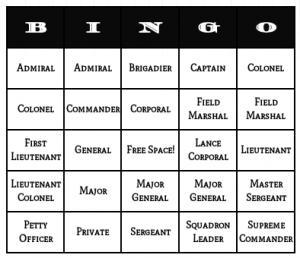 Every bingo card in our archive has a predefined style (that you can also change) and a button that you can use to reset the bingo card to the plain black and white style. This way you can override the predefined style in a click of a button.
After choosing the right style for your bingo card you should definitely print one bingo card and show it to a peer. This is the ultimate test – if your peer didn't like it and doesn't believe it is suitable for your audience then you would know you took it too far.