Bingo is a matching game that is popular not only at casinos but at parties and events. It is a game of chance where players match drawn numbers against numbers printed on bingo cards. There are many versions of bingo, including UK style Housie and American bingo. Some types of U.S. bingo are electronic bingo, bonanza bingo, horse racing bingo, death bingo and quick shot bingo. One of the best known versions is where players compete against each other for the prize, and the first person who matches the specified pattern shouts "Bingo!" Before the winner can claim the jackpot, the bingo card is checked for accuracy. Without printable bingo cards there wouldn't be any bingo games to play.
Single games of bingo often continue until a full card is called. Players typically use multiple cards for every game, and sit together at tables in bingo halls. They fasten the cards with adhesive and use markers called daubers. The bingo caller is responsible for drawing the numbers, calling the number and showing subsequent numbers on the television screen. Before a player can shout "Bingo," the caller must have called the number aloud. Bingo games are not only used for gambling, however. They can also be used as instructional tools to teach languages, mathematics, history and other subjects. Instructional bingo cards often feature words, pictures and math problems instead of numbers.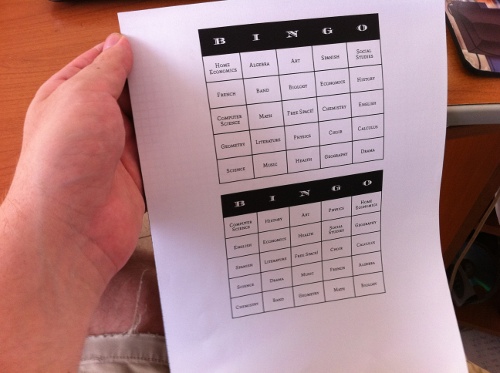 Bingo Cards
Bingo cards are used to play American bingo and the U.K. game Housie. Cards are typically made of thick paper or cardboard, but electronic bingo cards are also common. Matrices with randomized bingo numbers are printed on the paper or represented electronically on computerized cards. As the caller calls the numbers out loud, the players mark their cards with a dauber, pen or marker. Numbers can take varied patterns. Some games give prizes to players who did not match any patterns or numbers, while other games require only one number to be matched. Up to cover-all bingo gives the jackpot to the player who covered the entire card.
A U.S. bingo card contains five squares arranged in five vertical columns and five horizontal rows, with a total of 25 squares. Each square (except for the center square) contains a number, typically from 1 to 75. The center square is often a free square with the words "free" or "free space" on it. At the top of the card, the columns are labeled B-I-N-G-O. The first column (B) is numbered 1-15, the second column (I) is numbered 16-30, the third column (N) is numbered 31-45, the fourth column (G) is numbered 46-60 and the last column (O) is numbered 61-75. Other versions of bingo use three cards with 25 numbers each and contain all 75 numbers that can be drawn. Double-action cards have two numbers per square.
How to Use Printable Bingo Cards
If you want to host a bingo game at your event, you can use printable and custom bingo cards found online. Many websites (most are free, but some are paid) allow you to customize the cards and then print them out. Depending on the theme of your party, you can use bingo cards with pictures, words or math problems instead of numbers. You can even customize the size of the card and use 3×3 or 4×4 cards instead of regular 5×5 cards. For kids parties, you can print blank cards and have the children make their own patterns using stickers. Bingo cards for kids can use pictures or words from cartoons, TV shows or movies.
You can also use bingo card software like Bingo Card Generator to make bingo cards. It lets you supply your own word list or use the word list on the site. You can make baby shower bingo cards, addition and multiplication bingo cards and pop culture bingo cards (celebrities, shows, sports). Bingo Card Generator is free to try for the first 15 cards, but you have to pay a fee to use the unlimited version. The software is very easy to use, with no downloads necessary. You simply sign up online, create your bingo cards, save the card to your computer and print them out.